<! #EFEFEF > ... the musician ...
.
.
.... LORD LITTER RETRO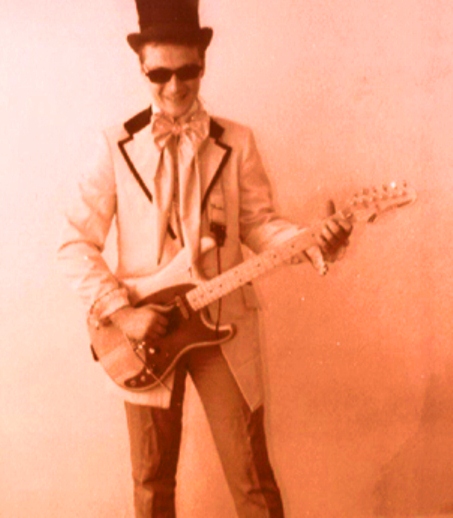 No Pigeonholes on Radio ON January 2017 Lord Litter Special

Don Campau presents Lord Litter from the 80s and 90s. All in all (really can't remember) I released about 40+ cassettes from 1984 to 1997. The here presented songs offer the Rock orientated material. Soon a gigantic LL collection will be released by Mick Magic on a mp3 DVD collection.

You can listen (download) to this Lord Litter special here.
---
download / listen
.. these releases are now available for download: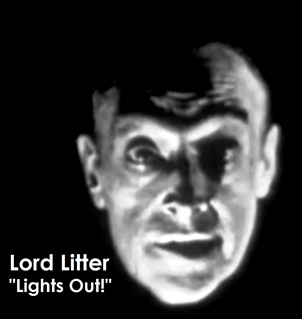 1. Lord Litter - Lights Out - 2016
The cassette that never was...a journey into the bizarre - a special 60 minutes production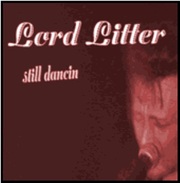 2. Lord Litter - still dancin - 2014
"... The vocal harmonies may invite comparisons to The Beach Boys, and the experimental psych-folk aspect may remind one of The Incredible String Band, but ultimately comparisons are pointless because Lord Litter is a true original thinker who is making music completely on his own terms."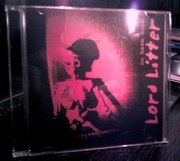 3. Lord Litter - No Harm Done - 2011
"...The whole seems familiar in a sort of Ray Davies way (appropriately enough) as well as in a sort of John Cale way, but it is singularly Lord Litter in a new, yet familiar, guise."


---
...... DAS FREIE ORCHESTER
...... DFO ...... Berlin, Germany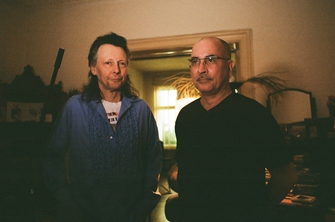 Lord Litter and Didier Leboz, ex members of Das Freie Orchester, being interviewed 2016 for a book on the German Democratic Republic underground scene, to be published in Japan.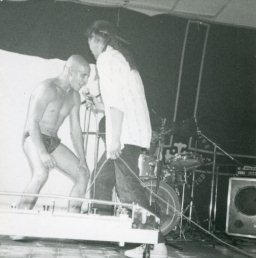 Didier Leboz and Lord Litter live on stage early 1990s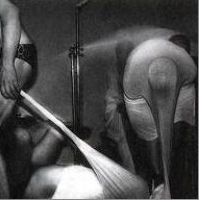 ... now finally on Soundcloud - the BEST of DFO - free improvising band from East Berlin, 1986 to 1992. I had the PLEASURE to be part of the experience from 90-92. I joined the band the day the wall fell in Berlin november 9th 1989. I came from the West. In 1992 when the dream of a *better* united Germany had died, we split .. all was said and done.

This collection is re_freshed and compiled by original DFO member, Didier Leboz.

https://soundcloud.com/dasfreieorchester
---
1000 Flights - a blog about obscure muzik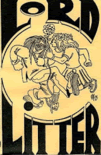 "... All in all Lord Litter is a weird genius of our time passing throu different layers of counter-culture and crossing the borders of time and space to deliver us a creative and innovative music that stands on its own. A must for the lovers of original music."

.. download 2 original tapes ...
http://1000flights.blogspot.de/
---
Lord Litter
.....I'd like to meet Samantha Fox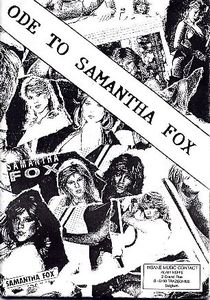 Looking back / listening to what I've done way back then .. I no longer like that much I find ... but there are exceptions .. like the songs I did for the *Ode To Samantha Fox* compilation, produced by INSANE MUSIC from Belgium in 1990. 447 invitations have been sent to 31 countries - 112 songs have been received from 13 countries, 72 songs have been selected, 56 songs only could take place on the 2 C60 cassettes .. I was lucky I had two songs on the tapes .. here is one .. Lord Litter - I'd like to meet Samantha Fox ... by the way .. does anyone remember Samantha Fox..??
---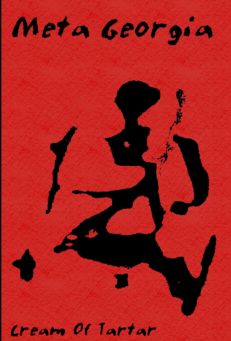 META GEORGIA
Cream Of Tartar - CD

Hilke Hesse and Lord Litter, two voices, two guitars and a uke! .. as pure as it gets ..

.. for pix / story / info / sounds / and more ... ...click!
---
LITTER Cinema...
.
.
Chapter 14' the dream of the disembodied birds'


Im a complete film maniac .. here's a short movie where I created the sound - it even won a prize..the sound. I did several short movies with Andrea Splisgar.

Chapter 14 performs a tribute to all imagery and sound in film history that has left signs in one's memory, inspired one's own artistic language and fuels one's own imagination without inspiration of any kind – as without memory itself - no work of art could have ever been created. nothing is original, originality is non – existent! stealing only from what directly speaks to our heart and soul, (in this case, acoustic excerpts from over 60 favorite film scenes), our thievery will transform into invaluable authenticity the performance does not bother to conceal the thievery... the contrary! it celebrates it, as if it is a daring dance into one's own personal conquer of unknown territory,... always remembering what Jean-Luc Godard said: 'It's not where you take things from – it's where you take them to!'

Idea and direction Andrea Splisgar
Soundtrack composed by Lord Litter on excerpts from over 60 acoustic film sequences
Video production Mario Morleo /centralVISION
Technical assistance hans h.
Set photographer Marc Raeder
Cast Andrea Splisgar, Mads Dinesen

Realised in Berlin, June 2010, duration 5 minutes,

.
.
Glen Or Glenda
<! iframe src="https://archive.org/embed/SpiderBaby.-.1964-ImprovedAudio" width="410" height="250" frameborder="0" webkitallowfullscreen="true" mozallowfullscreen="true" allowfullscreen>
"...one is wrong because he does right - one is right because she does wrong..." Bela Lugosi intro monolog

This is one of my favourite movies - not for the obscurity nor for the campy trash flavour - no, for the heartfelt desire to speak for all people to be free...whoever..whatever you are...besides that it's a brilliant off_beat movie...underdogs of the world unite!.....Ed Wood forever!

...... the dj ...
.
.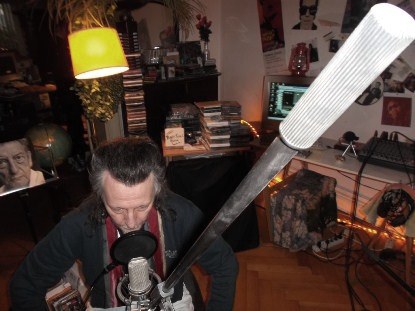 Lord Litter hosts radioshows since 1987 and says: Vive La Difference!

The Show presents the new microcosm of free music production, once known as "independent" or "alternative" music, expressions, that - now integrated into the "system" - have no more relation to their original meaning ...

Music/Sound that is uniquely based on more than 70 years of recording history, from classic cassette scene releases of the 1980s to the hypermodern update studiotechnology results. The emphasis is on long working musicians with a unique quality - any sound .. any style. Variety leads to an open mind.

Even though I fully understand the tight budget of creative people, I only present physical releases. Today's mainstream ... the internet including "digital only releases" and so called "free services" like Facebook, where one person earns LOTS because each and everyone taking part means MONEY to the owner .. this needs an alternative.

So - send vinyl, CDs, MCs (with handpainted covers, if you do them) ..these will finds months of airplay at my show(s).
---
RADIO ON BERLIN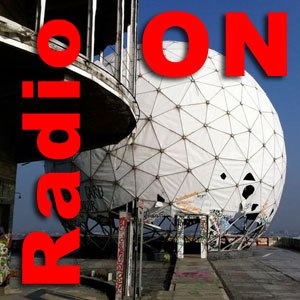 24 hour radio from Berlin
LORD LITTER'S RADIO ON SHOW

Radio On explores the expression of sound. Whatever you can do with sound you'll find here. If you are in for some real experience ... try this station, you might find another section of your mind.

The show I am producing for the station will follow the guidelines I set up for my work in recent years but it will try to explore more .. go deeper .. trying to find interconnections between fields of culture that seemed seperated. I always knew that this seperation was and still is set up by people who own the structure - the structure that only has one aim these days ... consumption.

People outside this structure create worldwide to express themselves - the result may be Folk or Noise - it all comes from the same mind .. this is what I try to present.
http://www.radio-on-berlin.com/
..get the Radio On APP..!!!
---
KWTF 88.1FM Bodega Bay


LORD LITTER'S MAGIC MUSIC BOX INTERNATIONAL english langugage ... produced for http://www.KWTF.net USA / California, 88.1 FM Bodega Bay, listener supported, community radio for Sonoma County and streaming live...



.. that by the way is the wonderful place you can see in "The Birds / Alfred Hitchkock" and "The Fog / John Carpenter" ....! http://www.bodegabay.com/
---
RADIO MARABU



LORD LITTER'S MAGIC MUSIC BOX german langugage ... produced for http://www.Radio-Marabu.de euro network with on air / shortwave and online broadcast

---
more than 250 Shows to download


get all Lord Litter's Magic Music Box Shows available at archive.org download/listen




The Internet Archive is a San Francisco–based nonprofit digital library with the stated mission of "universal access to all knowledge". It provides free public access to collections of digitized materials, including websites, software applications/games, music, movies/videos, moving images, and nearly three million public-domain books. As of October 2016, its collection topped 15 petabytes.In addition to its archiving function, the Archive is an activist organization, advocating for a free and open Internet.



---
Survivor


Most of the musicians from the day became part of the or a system..dead and gone, even if still alive..good to know .. some survived!!

ALVARO




http://www.don-alvaro.net

.
.
.
.
.
.
.
.
.
.
.
.
.
.
.
.
.
.
.
.
.
.
.
.
.
.