History

My journey into music started when someone discovered: "this boy can sing" - so as a kid I was member of a classical choir, singing lead, heavy Bach 'n such, with concerts in big churches, tours, etc... Along came Rock 'n' Roll.



My first band, early 1970s - R.B. and The Three String Band, looking back I guess we played *Punk_oustic*. I also started recording in those days. By chance I heard about a stereo reel to reel machine that would allow so called *ping-pong* recording. Record on track one, then, while recording track two, mix track one into the sound of track two, then mix track one and and two, now on track two, back onto track one while recording a third instrument, and so on ... with headphones and all. Wow, what an experience! I became totally addicted!!! .. recording/producing sound eversince ...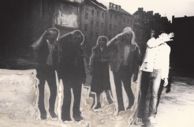 Late 1970s / thru 1980s, Berlin hit by Punk/Avangarde/Underground. My band in those days only had a sign - no name, wow Avangarde! The drummer had an advertisement agency, a cellar and a 4-track reel to reel machine! That band had a girl singer, who 30 year later became the love if my life ..



People came and went, a first transformation was a trio playin' extremely tight german art-punk with hate lyrics - The Sign... guess who srceamed the lyrics.. The first time I recorded in a *real* studio 'n realised that this simple fact does NOT lead to a satisfying sound.



The next transformation was 7 piece band with horn section, playin some kind of "No Wave New York Funk Punk" - name UBIK. Playin the *real* underground clubs. I loved the sound but probabaly the mix of the people was just a bit too wild .. a heavy metal drummer, a funk guitar, a jazz horn section, a King Crimson fan on second guitar and me somewhere in the middle ...



The whole thing kept transforming, so in the end we were a production group. GMB. We recorded in groups 'n subgroubs, released tapes. Most of this material recorded on my 4-track cassette machine. I was more or less continuosly recording.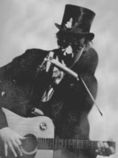 This was the time three things happened. FIRST - I started working as Lord Litter. The next years were complete madness releasing cassettes like crazy - 20 something regular tapes and countless *Best of* tapes all over the world. Some of the stuff is still available, like this *Best of*: HYPER HOUR by HYPERTONIA and http://tapeattack.blogspot.de has loads of the old original tapes avail for download, with cover. SECOND - I became part of a music management that wanted to lead some of the Berlin bands to a cooperation with the music industry, keeping freedom for the bands. To cut a long 'n painful story short - I realised, it simply does not work if it's just about music. I experienced unbeliveable circumstances .. cliches about the music biz? .. nothing but truth! .. it made me leave the music as product world, for never to return. Because - THIRD - I got in touch with the "worldwide free music network" and started working for free music/culture worldwide eversince...



Late 1980s / thru 1990s, the next big thing happened when the Berlin wall fell. The very day I joined a East Berlin underground band. DAS FREIE ORCHESTER(DFO). I was in touch with the band via my radioshow, where I played cassettes from the east German underground. The concept of the band was: there is no concept. Absolutely everything was 100% improvised - what a great time it was. We traveled, recorded, released tapes like crazy, worldwide with a *big* fandom in the USA, etc. 'til it turned out, it's over - all was said and done. Loads of DFO tapes for download here: tapeattack.blogspot.de


It was transformation time again. Gui, the DFO drummer said:"..let's play your songs from the tapes". So we did. The Lord Litter Band, the result was a strange Cowpunk with hard Rock touches .. I think.

Yes - the usual playin 'n recording and transforming. So the rest of the century I spent with Litter & The Lazy Sleepers. In the end we played a Texas Shuffle, R & B mix, which I really liked .. but 10 years of Rock was enough for me, it was time to move on. So I left the band in 1999 to built the studio that I am still working in these days...because it is my flat.



2000 - 2011 In my 4-track cassette recording days I had immense fun and inspiration creating soundscapes. Two are still available at archive.org (1. On The Other Hand - Part 1 - Muzak 2. On The Other Hand - Part 2 - At The Gates Of Hell)! So when I met Andrea Splisgar in late 1999 'n she asked if I could do some scapes for her work, I was mucho delighted. A soundtrack I did for one of her short movies, even gotta prize (CHAPTER 14 The Dream of the Disembodied Birds).Our cooperations are labeled as Der Mondaene Tiger.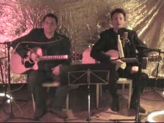 Not to forget that through all these years I continously kept recording and releasing solo music. 2005 the return of Lefty Leech. He had been in the band with no name, all over sudden he lived in a house down the road and we formed a acoustic duo, Litter & Leech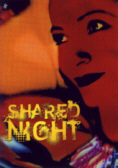 .. and yes recording, playin. Until Lefty Leech was totally fed up with our western civilisation and started a new life in Gambia, Africa. Another wonderful music intermezzo. From 2008 to 2011 I was hosting the Shared Night concert series here in Berlin. I opened the nights with own songs and later with a special *suitcase theatre*. This brought pro musicians onto a stage where they could try whatever they wanted to try. So we saw from Folk to Avangarde, from Jazz to Rock to whatever. The series came to an end when it all became too much for the organisers, who did'nt earn a single penny with the series ... remember? ..art for art's sake does not pay ...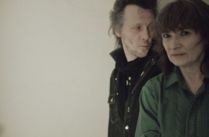 2011 - .... In late 2011 the girl singer from that band with no name turned up again and since we share life and music. Meta Georgia, two guitars, two vocals, all her songs and the idea to be as pure and *close* as possible. We took our time, so now we're working on the first CD and on a life program. The adventure continues and sooner or later I'll be back with another solo release...

All above is just a rough scetch. Especially the music management years could do with many more stories and examples ... well, perhaps one day. I never wanted fame and fortune with my music, probably it just never worked out, I really don't know. When there was money for my work, I took it, when there was no money, I kept on anyway. It is all just inside of me and it needs to come out - I am sure that I'll keep on, til I have to leave. I still wanna try so many things .. sometimes I think I just started.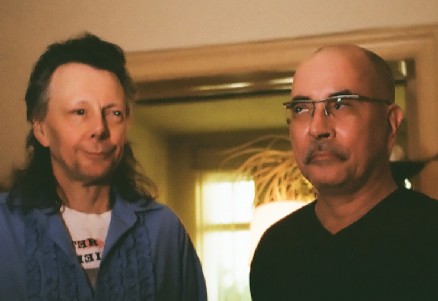 fast forward ... 2020 Good grief - time started to run, years were flying by..Today I mainly produce radioshows and occasional *experiment_lish* tracks for compilations and a full length concept release about the update madness is forthcomming with Didier Leboz, whom I know since the days we enjoyed with DAS FREIE ORCHESTER (see above).

I stay away as far as possible from all (most) of today's poisoned structures (Social Media) and I find peace and freedom in reduction and slowing down. And yes - one or the other way - the adventure continues!


LORD LITTER Interviews

1. Extensive, VERY in_depth interview from 2012 (ENGLAND)

2. VERY in_depth interview from the LIVING ARCHIVE of Underground music from 2011 (USA)

3. another in_depth interview, this time in Greece 2011

4. WINKLEPICKERS Fruits de Meer Records talks to Lord Litter radio DJ about his vinyl obsessions - 2017